House plan with a winter garden and the second floor deck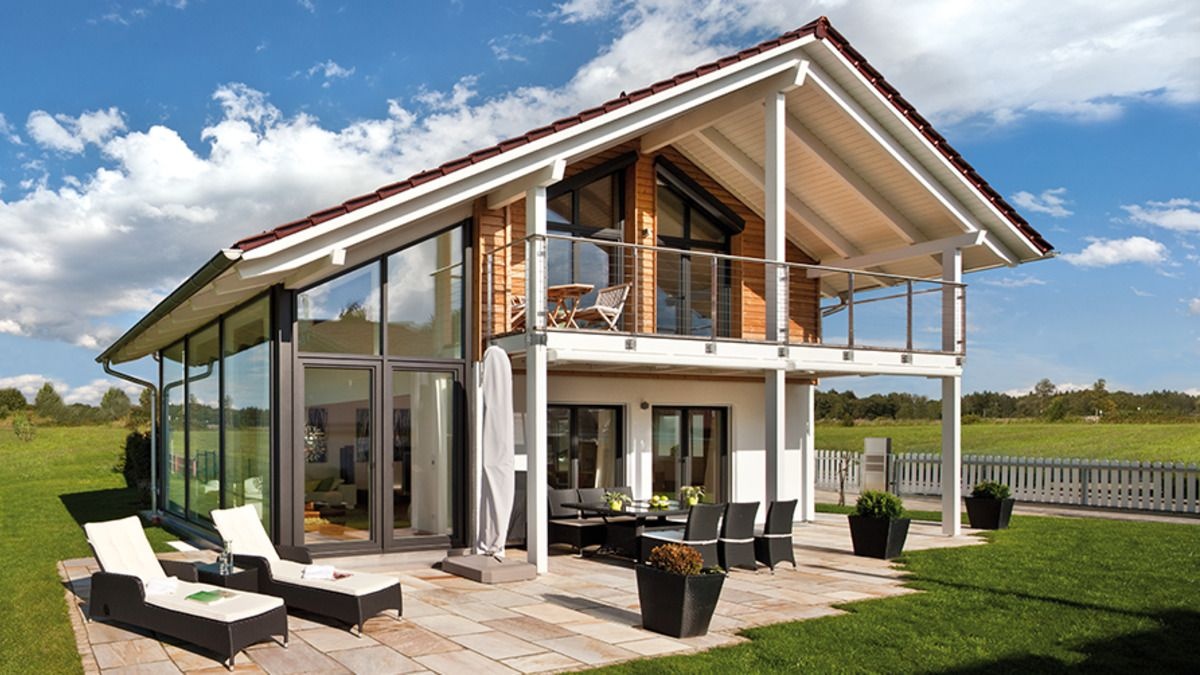 Winter Garden, covered terrace and balcony
A plot on the outskirts of the fishing village Seehausen with stunning views of the Staffelsee: Who can use such a dream location, builds as the family S. a home that "lets co-inhabit" nature. On the ground floor and first floor, the garden side of the new construction of the landscape realized by Regnauer opens up - through a winter garden, a covered terrace, and a balcony, which are protected by a pitched roof inclined 26° down on one side.
Modern Living Room with Wall of Windows
A vital house with panoramic windows - Curiously, the inspiration for the built dream in the green delivered not the house, but the object area of the wooden house manufacturer from Upper Bavaria. When the tax consultant got to know Regnauer's ideas for the commercial real estate, the spark jumped over. Together with his partner, he decided to realize a private house. His Vitalhaus concept appealed to the occupationally strained client family. They wanted a pleasant retreat from the stressful everyday life of a self-employed person, a place to breathe deeply and relax.
Covered Terrace with Wall Made of Firewood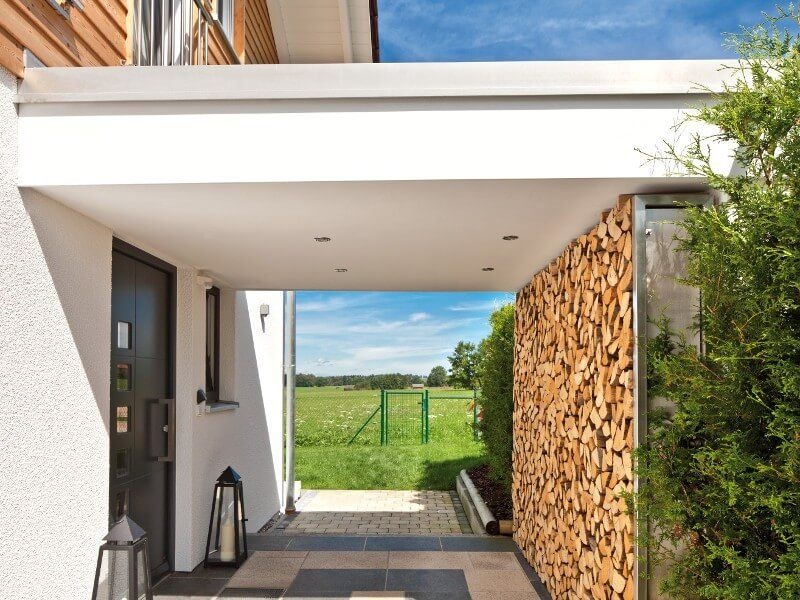 Space for nature
- Regnauer translated this goal into an individually planned architect's house with an elegantly simple design for the street and a dominant glass façade to the garden property with adjoining meadow. Soothing: the open, spacious living areas, which are flooded with light by the builders' family through the large glass surfaces and seem to extend the house into the landscape of the foothills of the Alps. From nature derives also the building material wood, which receives the facade on the upper floor with a horizontal formwork. Inside, wooden floors create the bow to the building material. The color is white - with a textured plaster on the ground floor façade and white exposed beams, white walls, ceilings and fitted wardrobes on the inside. Details such as a curved spiral staircase in anthracite and stainless steel elements attract attention.
Modern Bathroom Under the Sloped Ceiling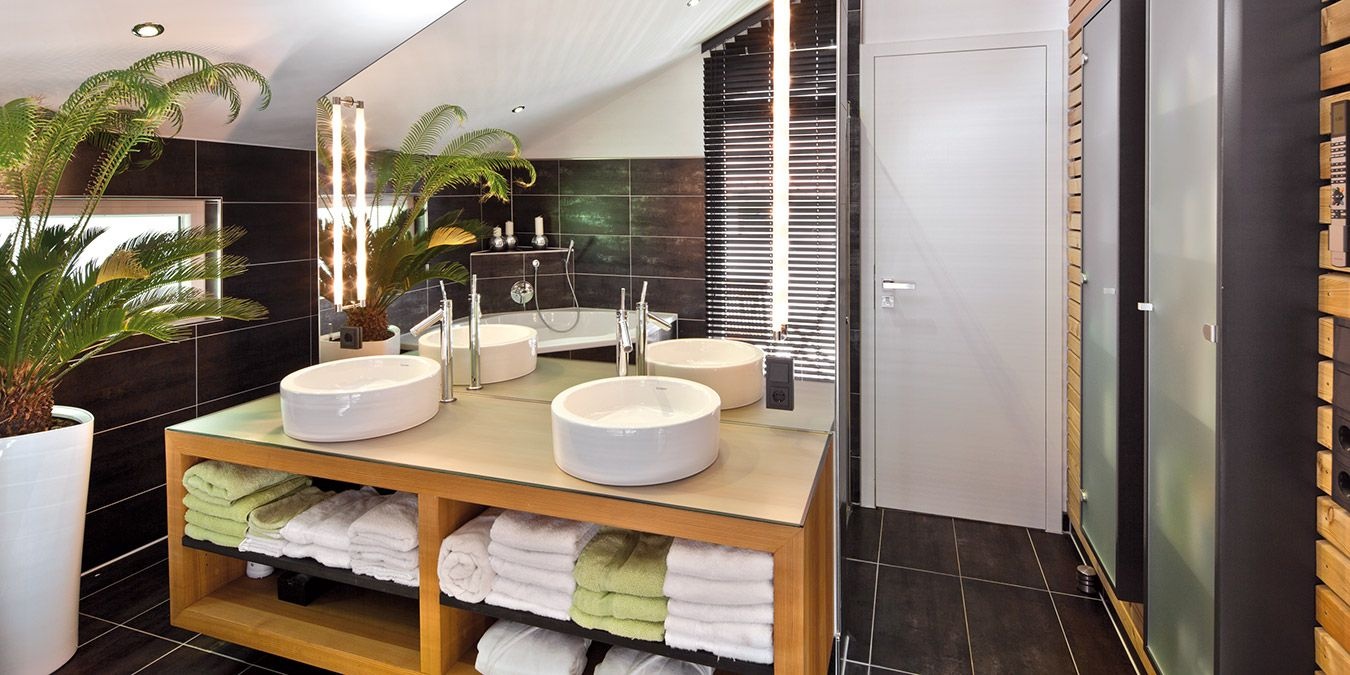 The Second Floor Deck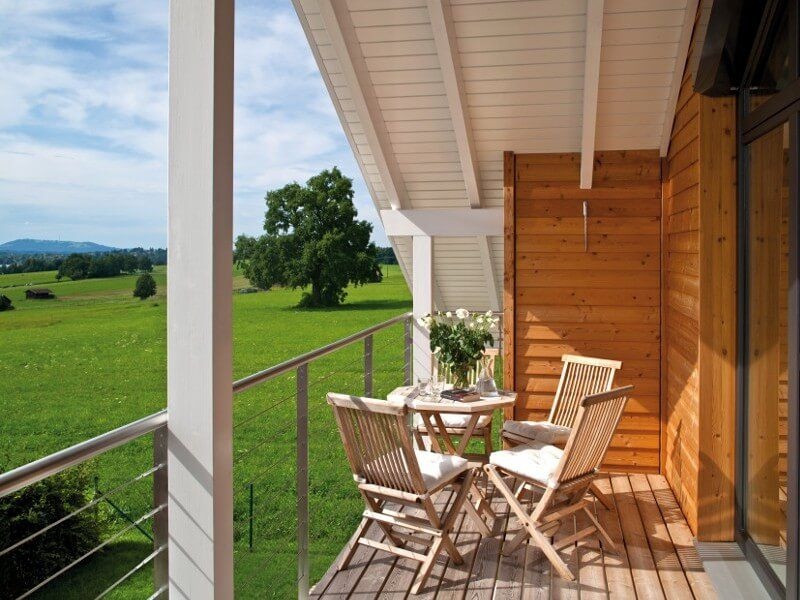 Wood: noticeably good - Invisible and very efficient: the wood fiber insulation of the Regnauer vital walls.
Noticeable: the healthy indoor air guaranteed by the building material wood. In summer it is pleasantly cool, in the winter cuddly warm.
Corner Sofa with Low Table Made of Solid Wood in the Living Room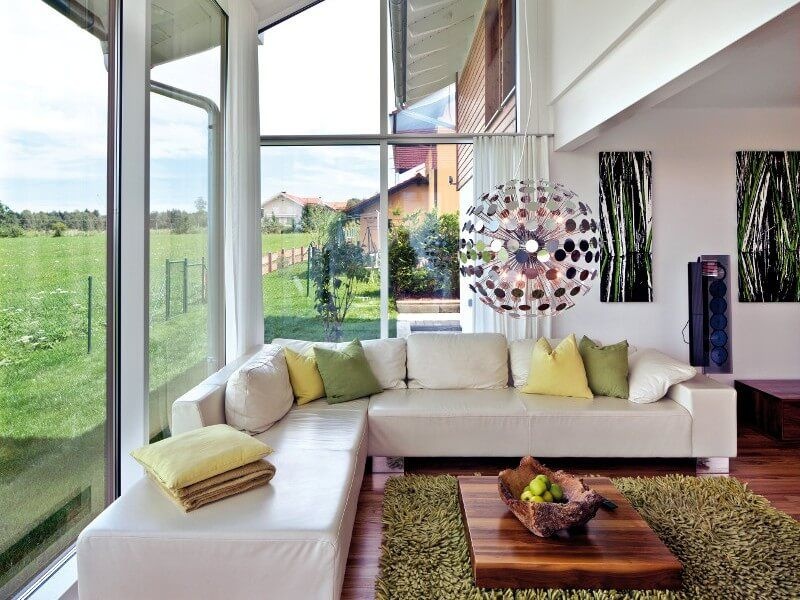 Construction: Solid wood beam construction
Building materials (constructive): Wood
Insulation/material: wood fiber
Facade / Material: structure plaster or horizontal timber formwork Variant
Jamb Wall: 1,70 m
The thickness of the outer wall: 310 to 350 mm
Roofing / Material: Clay roof tiles
Roof shape and tilt: Saddleback roof, 26 degrees or 7:12
Mean U-value of the outer wall: 0.15 to 0.17 W / m²K
Black and White Modern Kitchen with lime points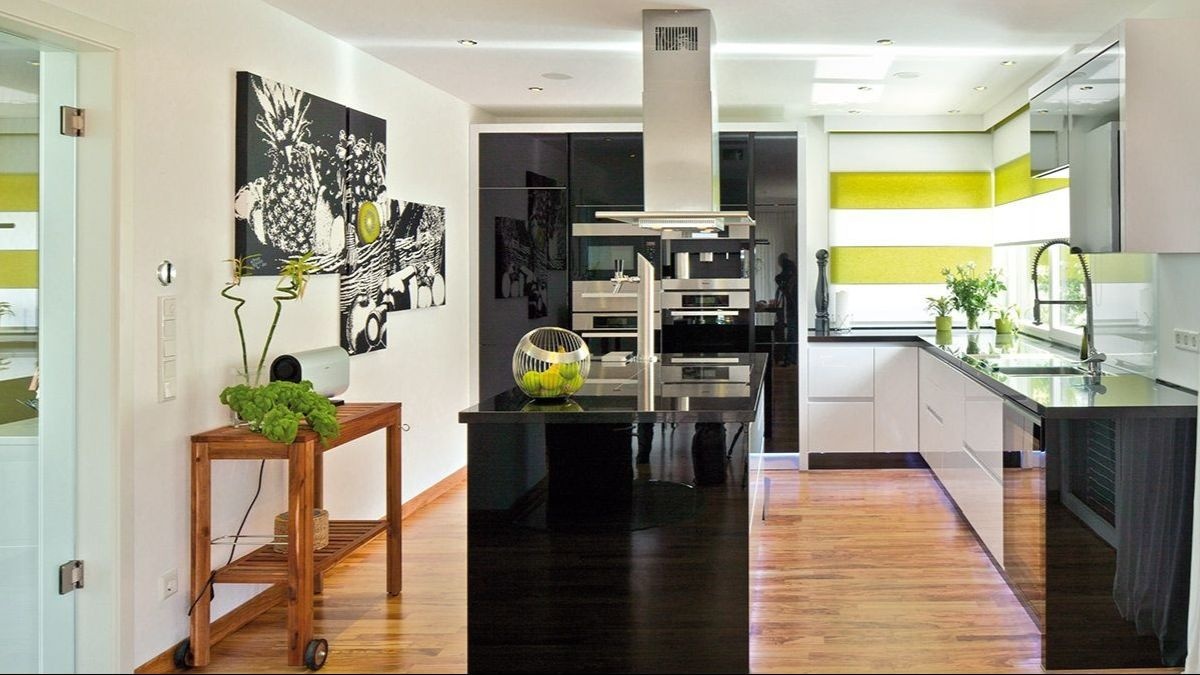 House Plans
Plan Details
House

двухэтажный
---
Bedrooms —

три
---
Garage Type:

without garage
---
Total Heated Area:

155.59 sq.m
---
1st Floor:

83.27 sq.m
---
2nd Floor —

72.32 sq.m
---
Dimensions —

8,16 x 11,37 м
Roof —

gable roof
---
Wall framing —

каркас
---
Cladding:

stucco
---
Foundation type —

Crawlspace
---
Outdoor living:

Deck, Balcony
---
Windows:

panoramic windows, clerestory windows
---
Сауна —