Modern one-story H-shaped house plan with terraces in the courtyards: Breeze
Single story modular house Breeze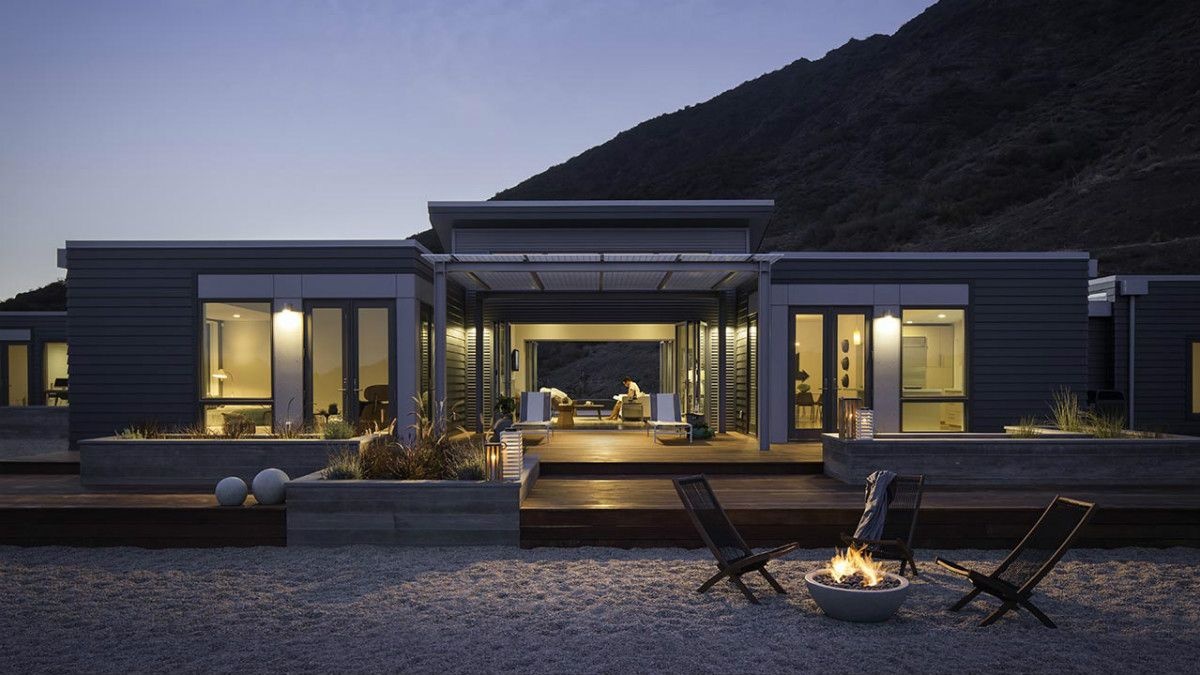 View of a one-story frame house Breeze with a terrace in the courtyard.
One-story prefab house Breeze - the largest house produced by the company Bluhomes. The Breeze House offers a large space for relaxation and entertainment, as well as up to 4 bedrooms for family members to live and grow. The central part of the house is made with a higher roof to accommodate the second row windows. The photo shows the options that you can get using one single layout, and make changes to it. Since this is a modular house, you can add or subtract rooms, a garage or other structures. The cost of this house on a turn-key basis starts from $545.000. For Russia, this is certainly too expensive, but in Russia there are companies that produce similar finished houses, which will gladly accept the order for your project. Of course, a single-storey house with an area of ​​200 sq.m will cost significantly more than a two-story house of the same size. The foundation and the roof - that's what increases the value of the house. Sliding windows with high energy-saving characteristics, will also cost a lot, although any windows can take up to 10% of the value of the house. But this is the most eco-friendly house in the world, according to Bluhomes:
All Blu homes are simply the greenest homes in the world. They are built to exceed the strictest green home regulations and energy efficiency ratings of any country. Green rated homes result in higher resale value versus comparable homes, making them your best investment.
It's not surprise, why in North America, wood frame houses are so popular. Their construction can be put on the conveyor and guarantee high quality, althow the cost will be higher. If russian population were not so conservative with regard to frame houses, all residents of our country would have long lived in warm and comfortable houses. And many people would not be sitting without work, as the construction industry creates jobs.
Courtyard terrace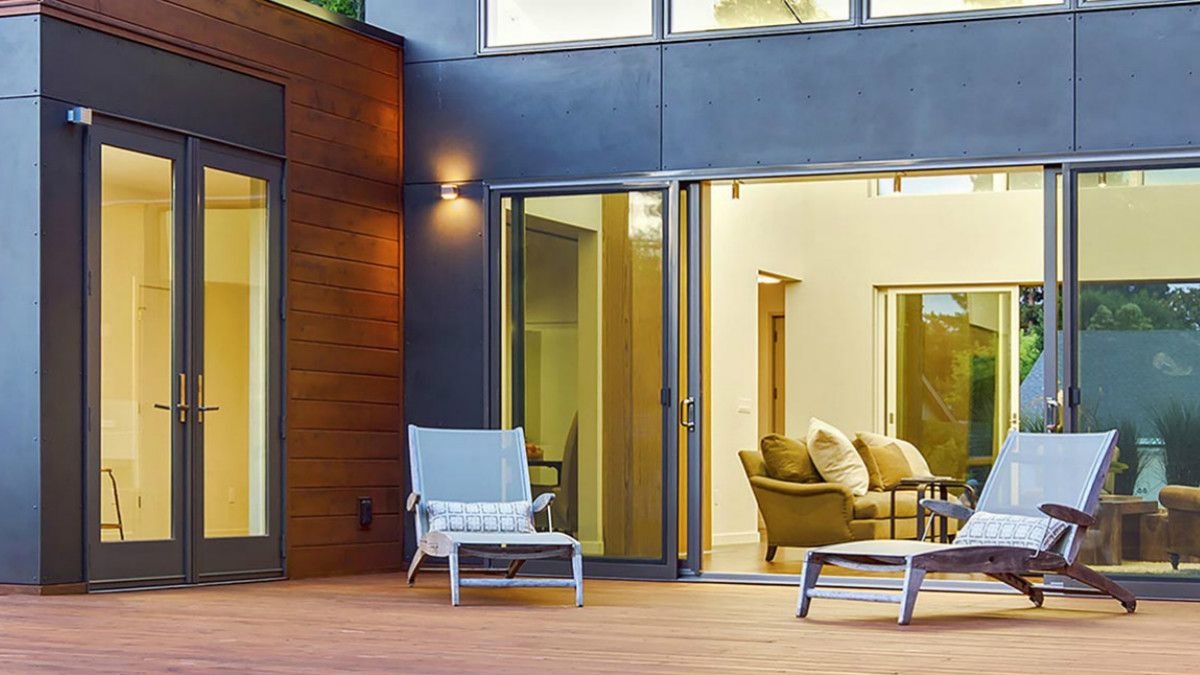 Depending on the time of day or the weather in this house, you can sit comfortably on one or another terrace
Back view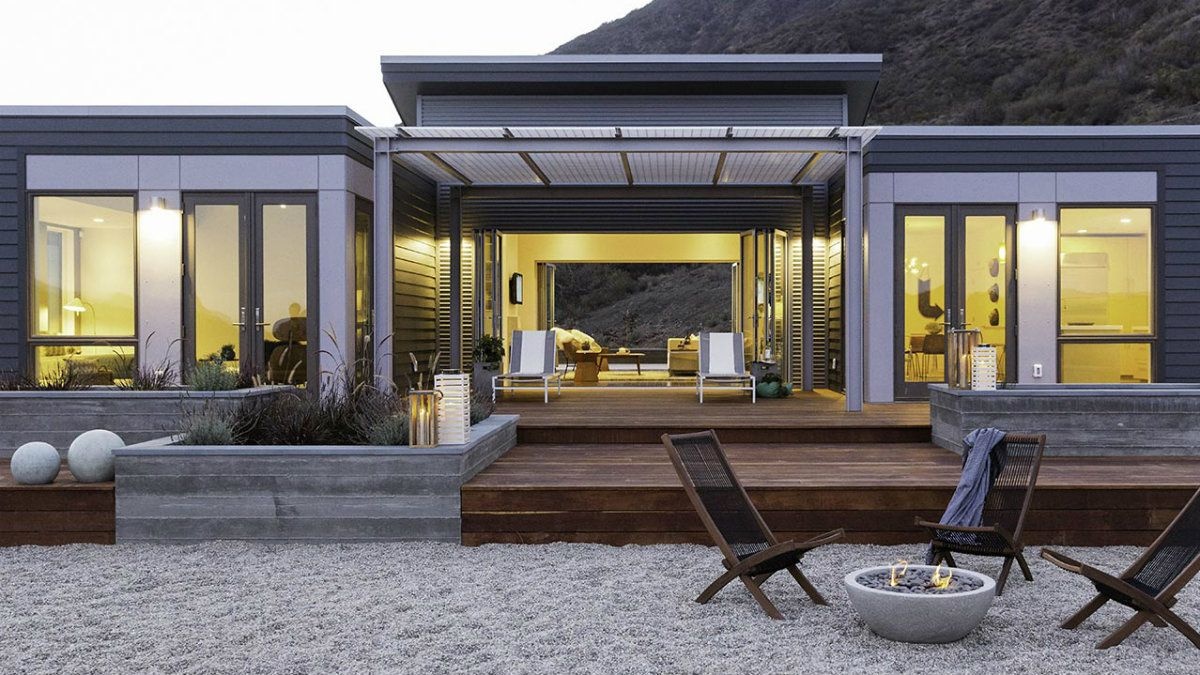 A patio with barbecue will allow to entertain a big company
Living room with terrace view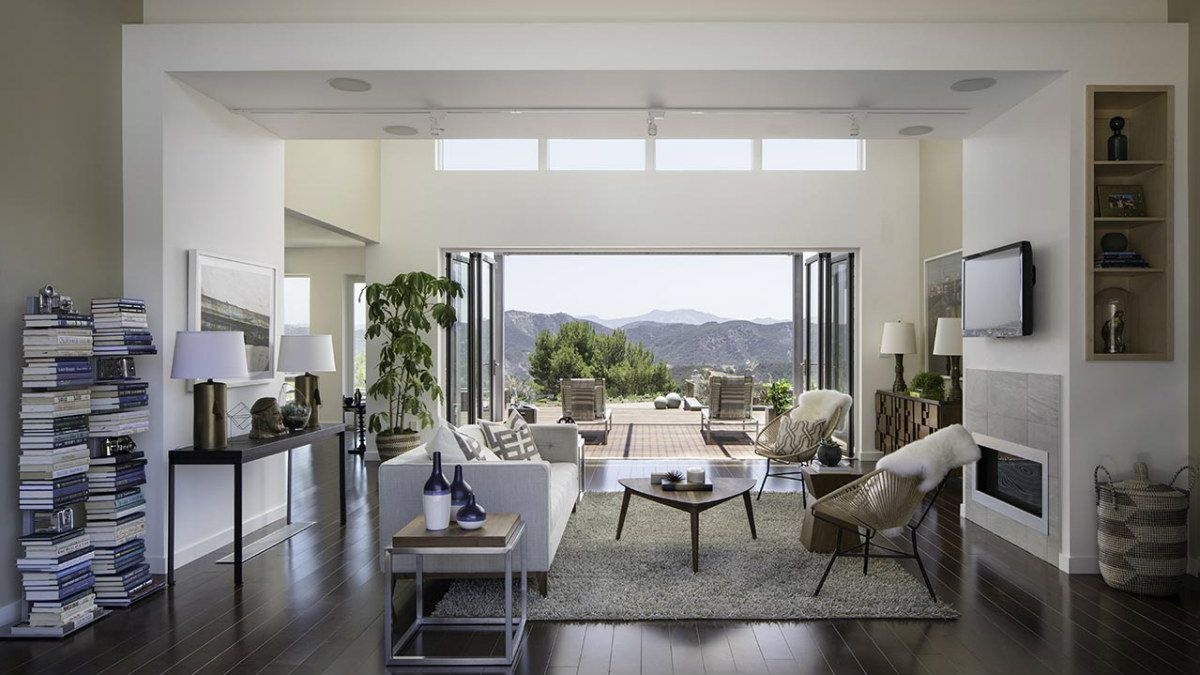 Living room in a one-story prefab house with a view to the terrace.
Sloped seiling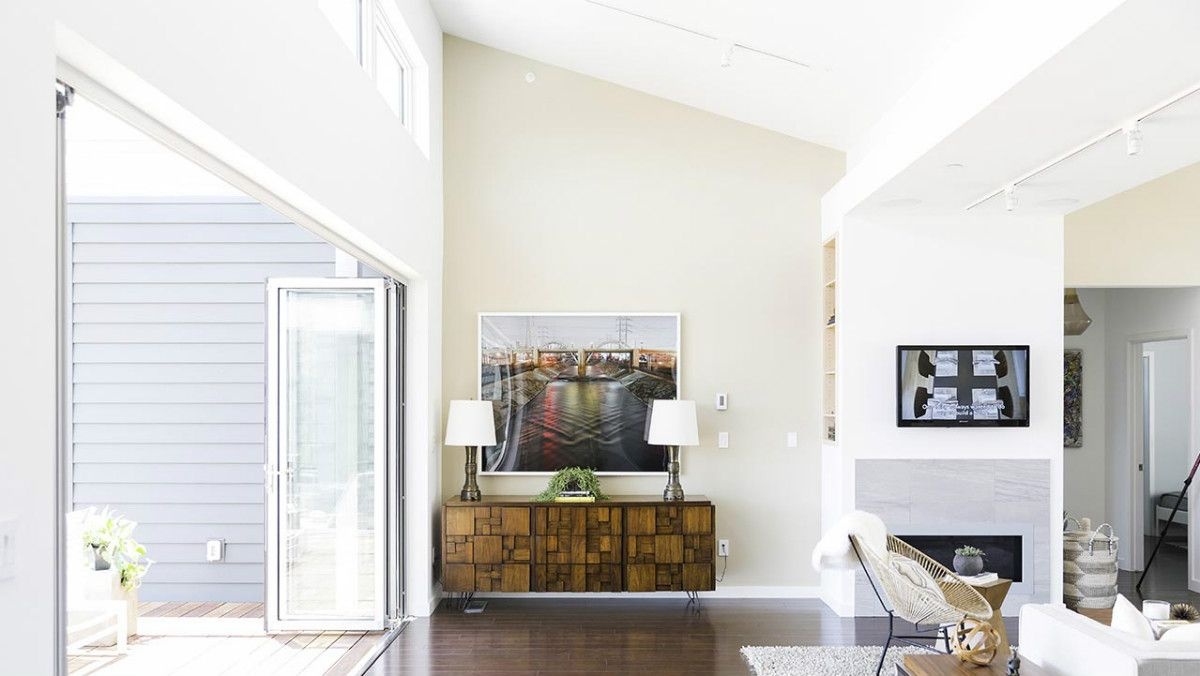 Sloped ceiling accommodate transom windows
French doors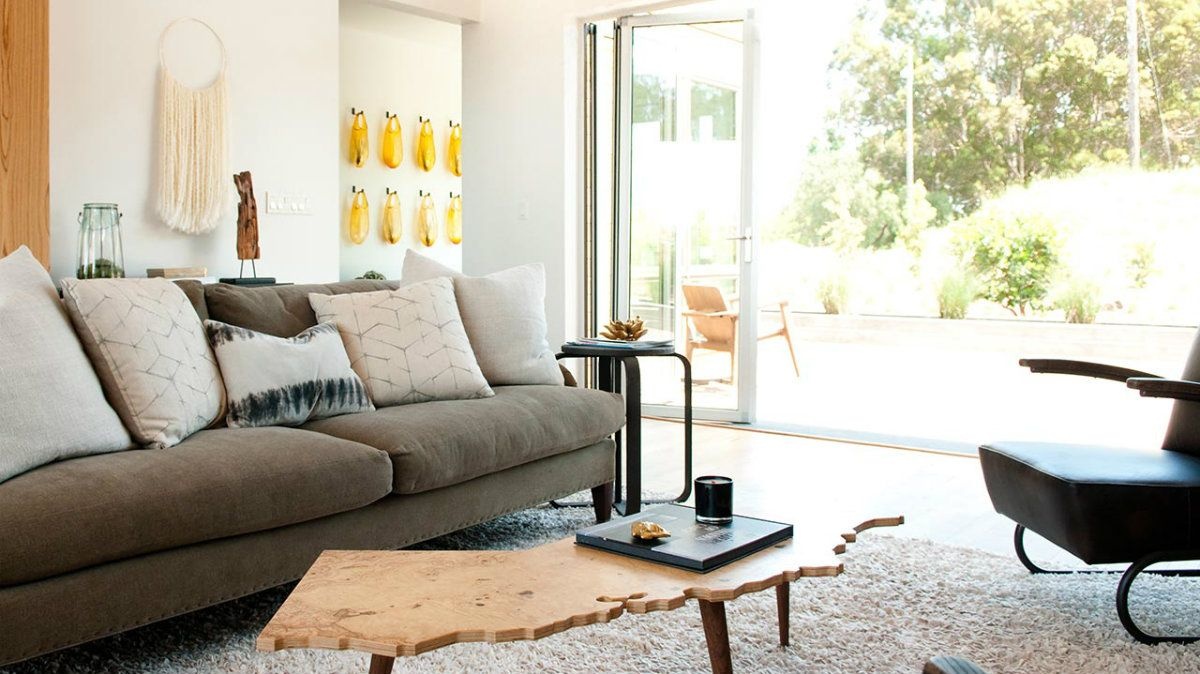 In frame houses it is not difficult to install folding glass doors giving a great view outside the house.
Master bedroom with access to master bathroom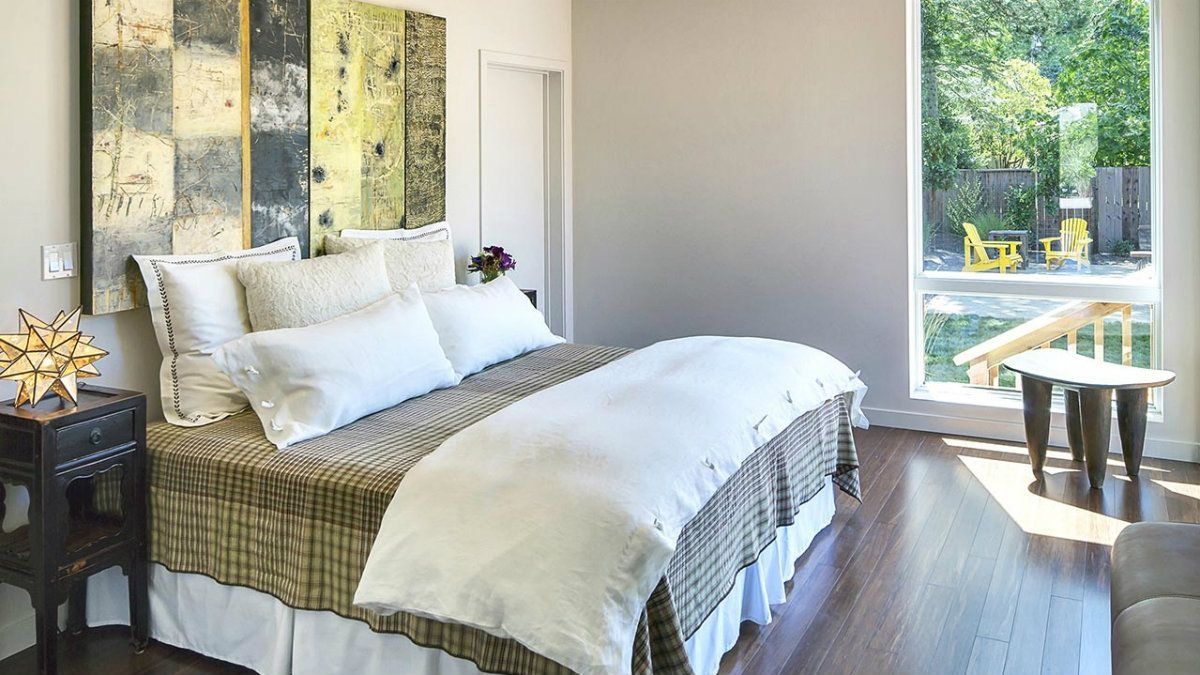 The bedroom has plenty of light thanks to the glass door leading to the terrace.
Master bedroom with king size bed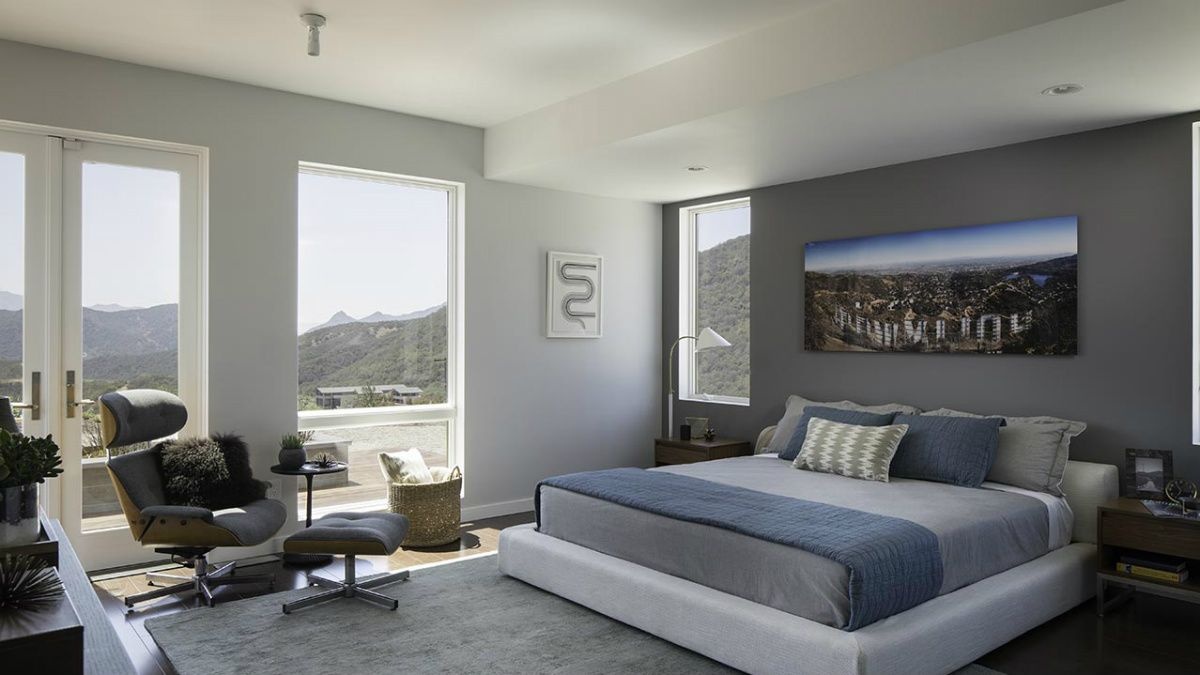 Modern master bedroom with gray and white walls
Floor plan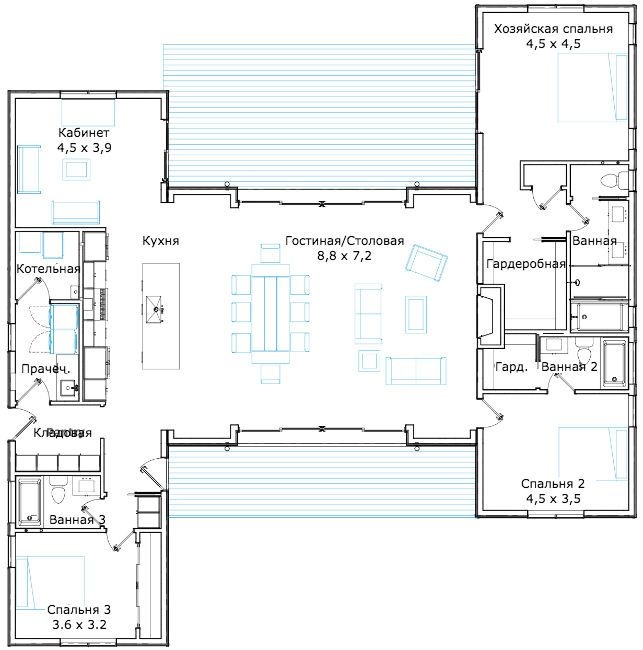 The H-shaped form of the one-story house plan allows you to divide the bedrooms for better privacy, and the living room in the center unites the family by day.
Plan details
House

одноэтажный
---
Bedrooms —

три
---
Garage Type:

without garage
---
Total Heated Area:

196.9 sq.m
---
1st Floor:

196.9 sq.m
---
2nd Floor —

sq.m
---
Dimensions —

18,3 х 18,0 м
Roof —

flat roof
---
Wall framing —

каркас
---
Cladding:

wood siding
---
Foundation type —

Slab, Crawlspace
---
Outdoor living:

Deck
---
Windows:

panoramic windows