Modern interior design ideas for the living room
Modern trends in the living room design are aimed at combining with the dining room and kitchen to create a space of a comfortable family for communication with each other and with guests. We present photos of modern interior design from Germany, the USA, Great Britain, Finland, and Australia. Designers from three continents use the same organization of space and the selection of color combinations suitable for a large living room.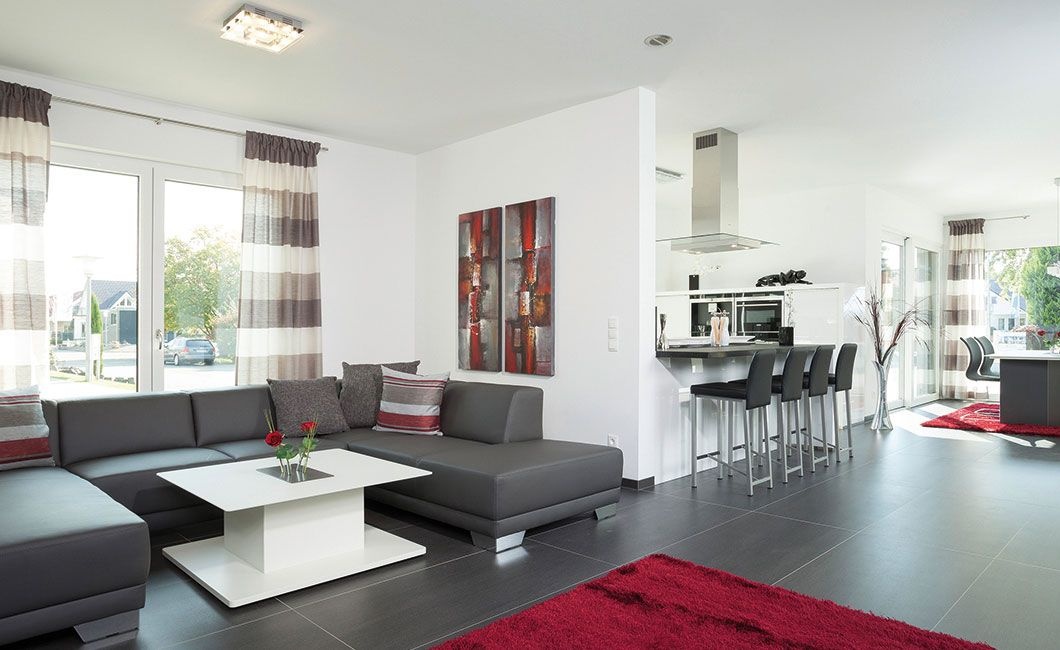 The living room in a modern house is 3 in one: a living room, a dining room, and a kitchen. The absence of partitions increases the room's area, making it easier to move around the house. You can easily communicate with each other when you are in the same room. Thus, modern design trends are spacious rooms for day activities and small rooms for sleeping.
To properly plan an open living room, place the dining room next to the kitchen.
The living room can be located anywhere, but preferably next to the dining room. Choose furniture and decor in one color scheme. You should not have more than three colors for the ceiling, walls, floor, and furniture with the decor. Change only the shades and color saturation. Use neutral natural colors.
In 2018, the most popular colors in the interior design were white, gray, and beige. To give brightness and individuality, add a drop of bright color, such as in this living room, created by German designers.
Marsh Hill Living Room with a sloped ceiling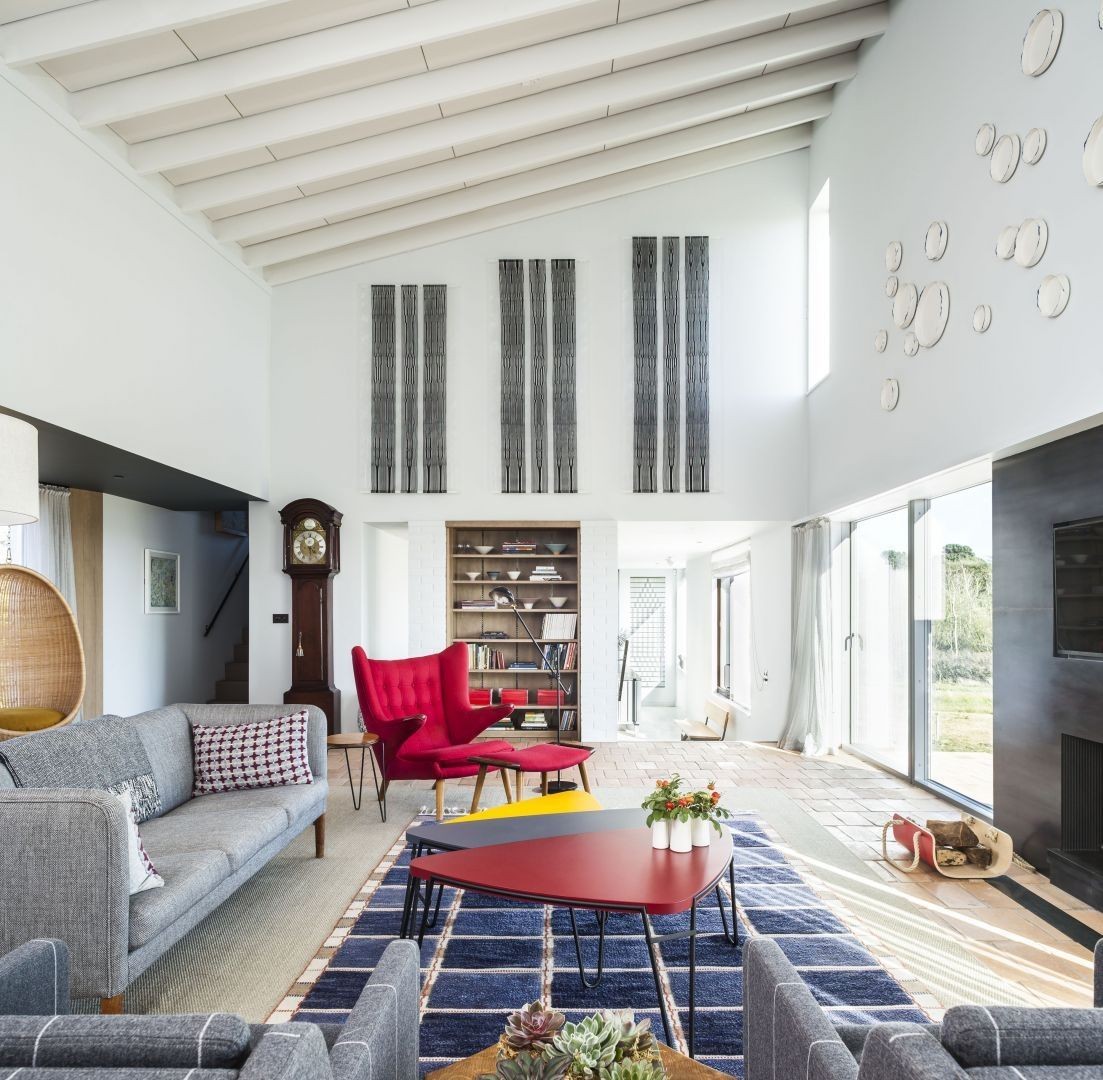 A narrow living room with two-story height ceiling and large windows. There is a grey color sofa and two armchairs. Also there is red modernist armchair and coffee tables on a grey carpet.
The modern house in Suffolk England on a slope lot and an original gable roof
Living room in the two-story house designed by Indian architects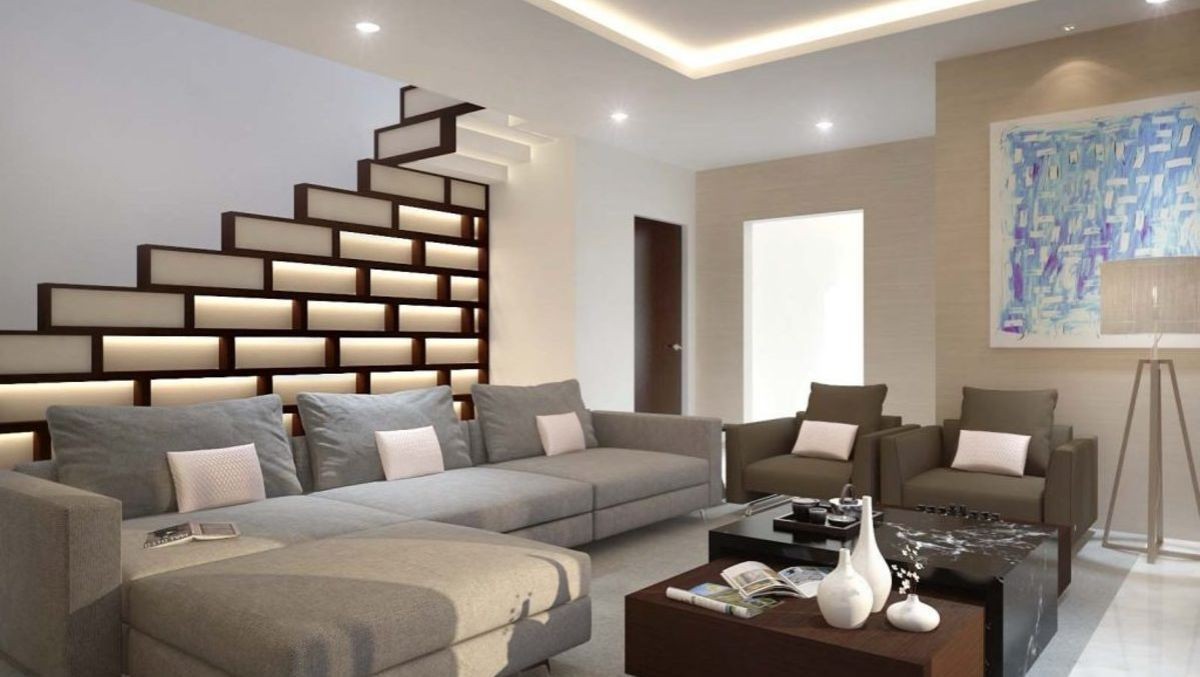 A beautiful designer staircase looks like a panel. Soft light is pouring from the tray ceiling. The furniture is upholstered in a neutral fabric: grеy and brown color.
Modern two-storey house plan Prestige from Indian architects K Square
The living room in the Wilson's house with a vaulted ceiling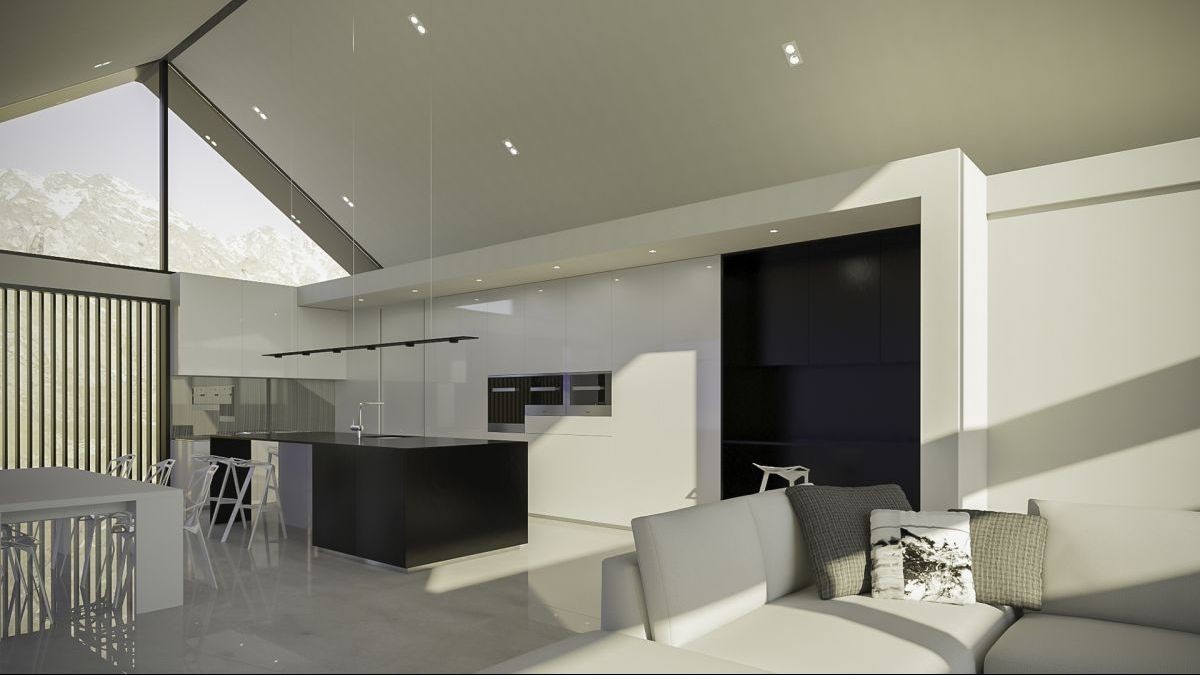 Black and White Living Room with a sloped ceiling and a transom window under the ridge. Clean and simple design.
The Wilson's house in New Zealand from Dravitsky and Brown architects
Modern two story living with a loft above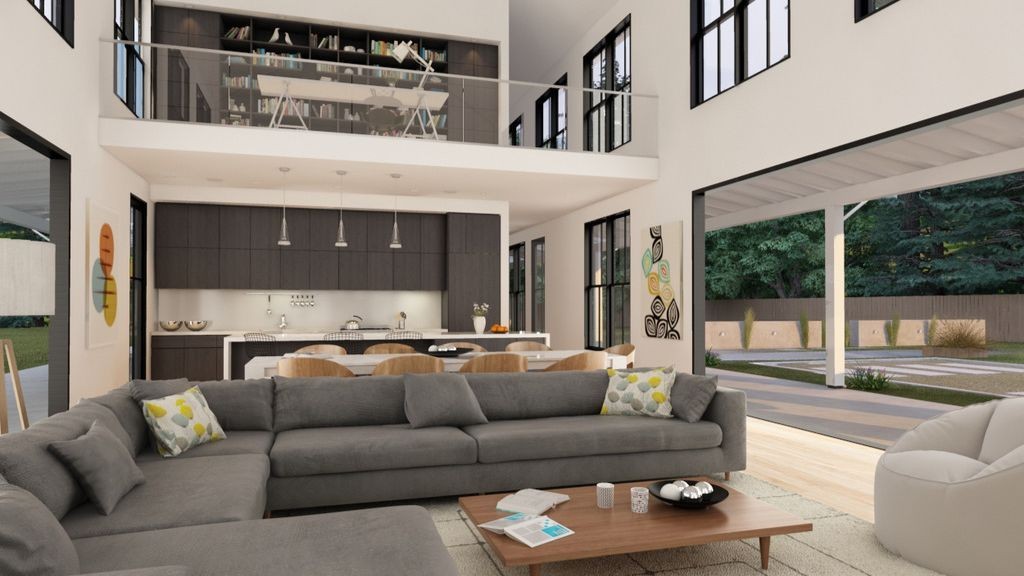 This huge living room has two story ceiling height. Above half of room there is a loft area closed by glass parapet. Two rows of windows give you plenty of daylight.
Two-storey house with a loft, panoramic windows and large decks
Living room with fireplace and panoramic windows in the corner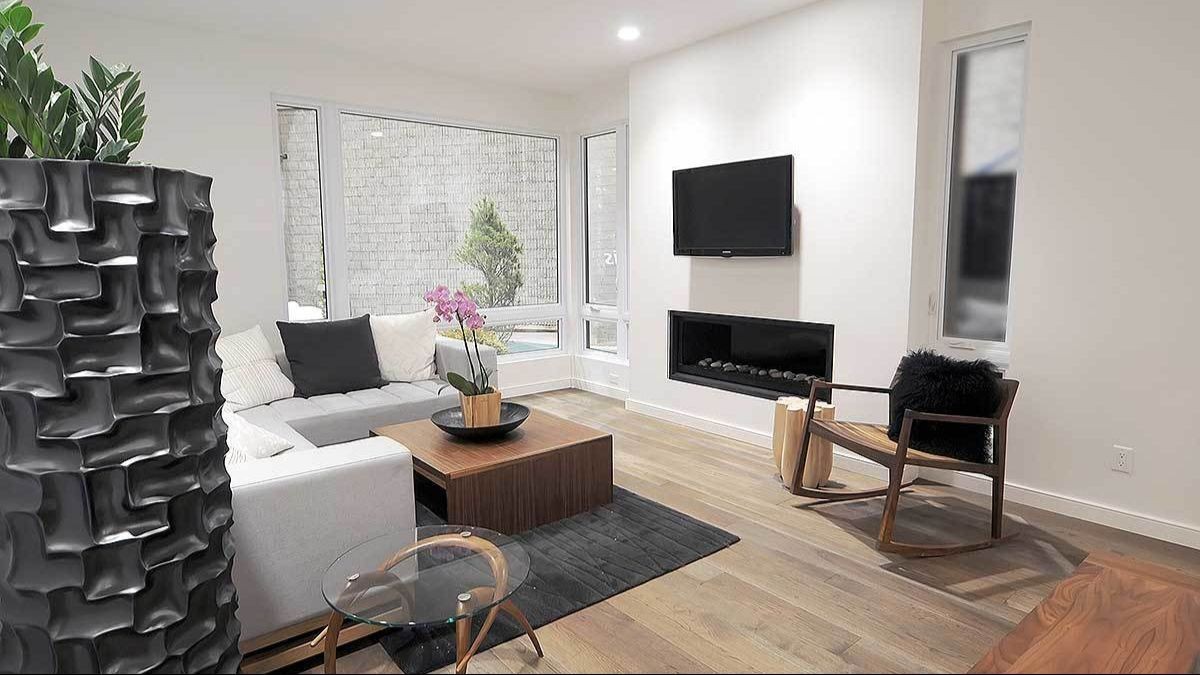 The classic solution for built-in fireplace insert - black fireplace and a TV on a smooth white wall.
Living room with elevator and sloped ceiling at Villa Barvon in Australia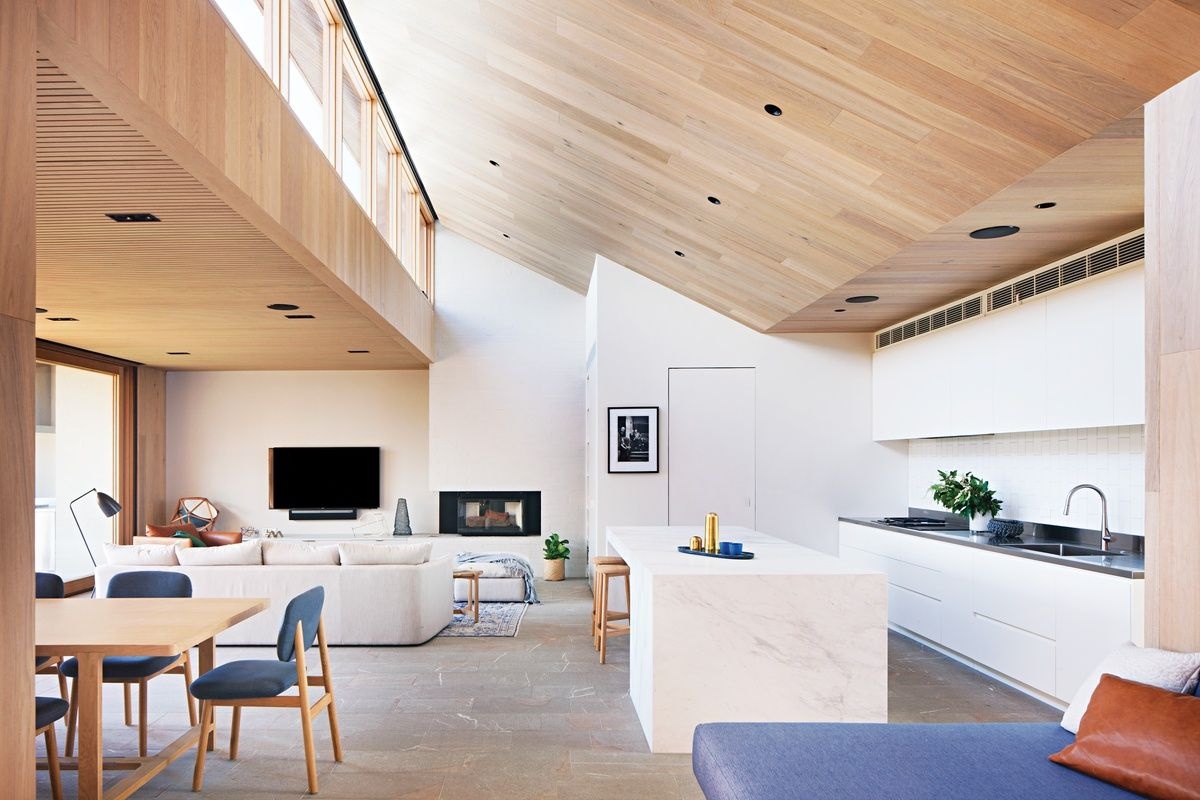 Here is a great idea for the design of a living room in a modern style: white walls, a floor covered with grey ceramic tiles, a ceiling and a loft hanging over a sofa and a kitchen table made and light boards. With the finishing materials of the living room, the furniture is combined in modern style: white glossy facades of the kitchen, a table and chairs of light wood, a sofa with white upholstery. The interior was light and airy. For accents, blue and blue colours are used.
Modern one-story L-shaped house with an interesting facade in Barwon
Open layout of the living-room in the house of Hobb's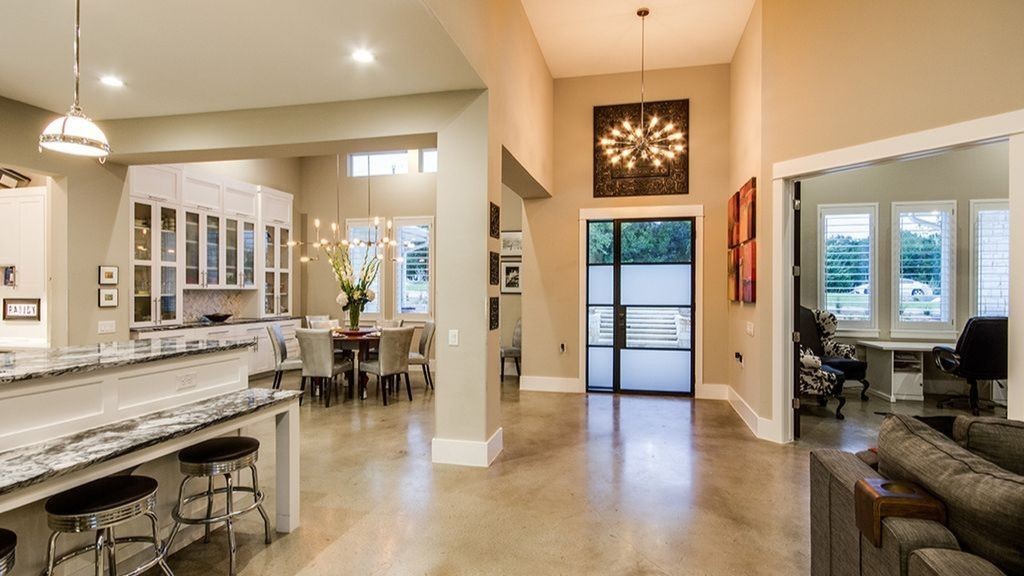 In the photo above, the idea of designing a living room with a kitchen and a dining room in warm pastel colours. A light golden shade of the floor from a massive wooden board is combined with beige walls. To the color of the floor and walls do not merge, white wide skirting boards and white casing around the door and window openings are used. Kitchen cabinets with glass doors and kitchen island are also white. To better illuminate such a large room, there is an entrance door entirely of glass, a series of narrow windows and a window of the second light.
Large modern one-storey house plan with stone cladding: the Hobb's architect
Living Room with a wood planks on a wall and L-shape sofa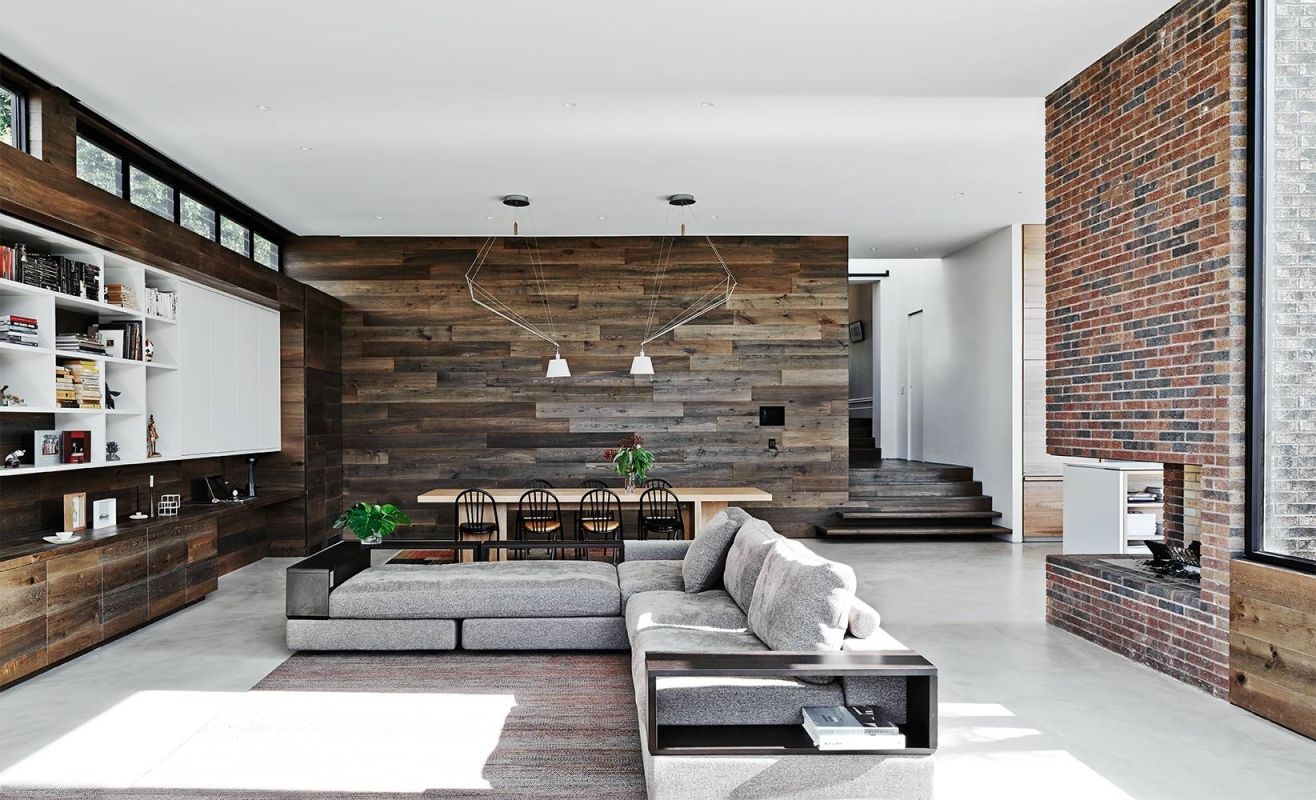 Architect Robson Rack: The old house turns into a new one
Modern Living Room with transom windows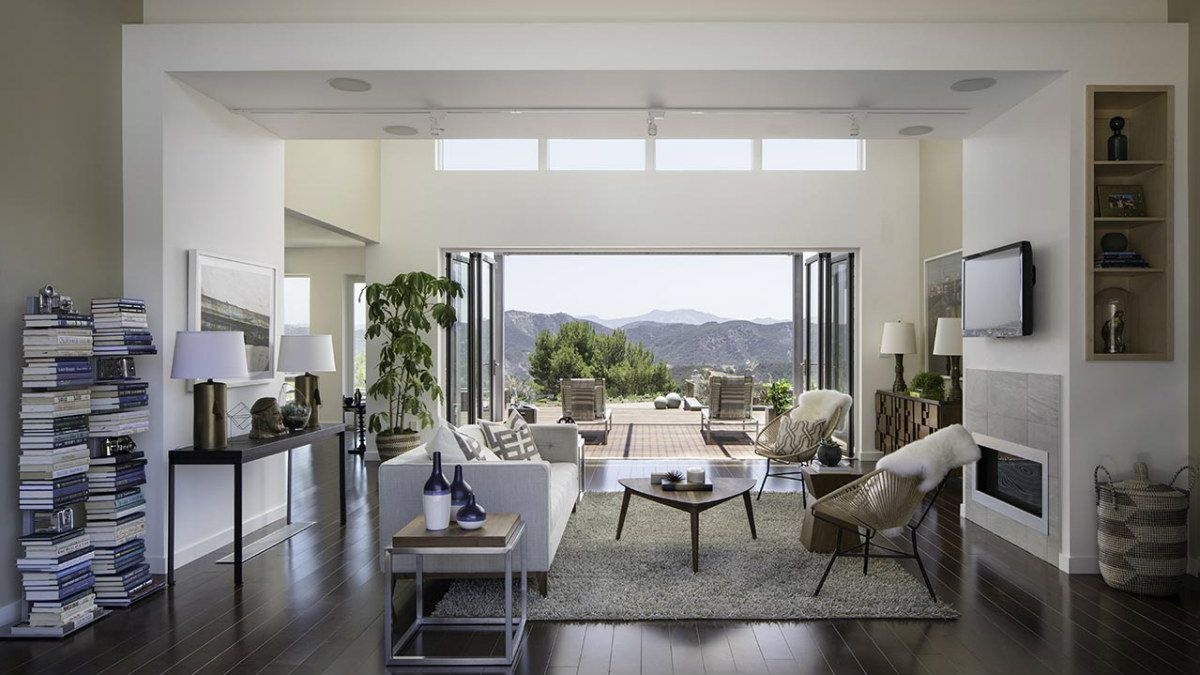 Modern one-story H-shaped house plan with terraces in the courtyards: Breeze
Living Room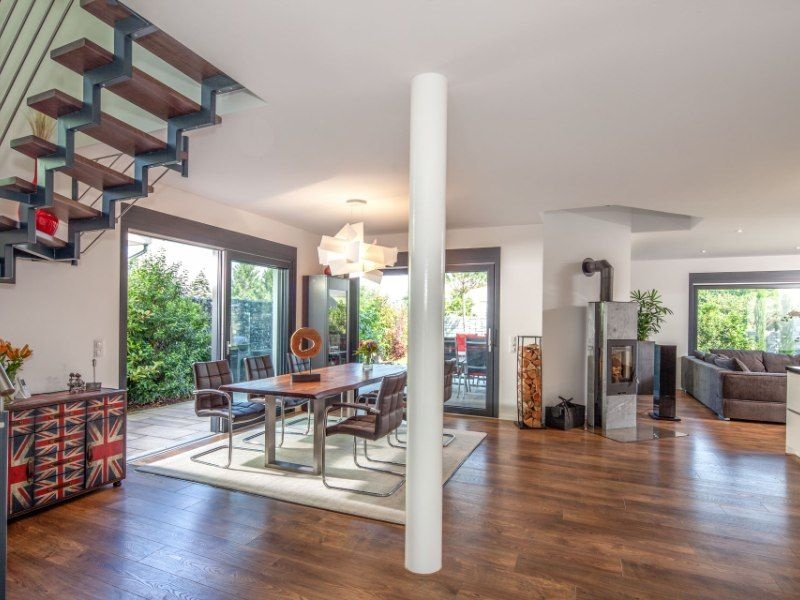 Open layout living-room with large windows. There is a dining table in a nook. A round column stands in the center of the room.
Successful balance of tradition and modernity
Living room in gray-white color with a red decor in the house Wolf-haus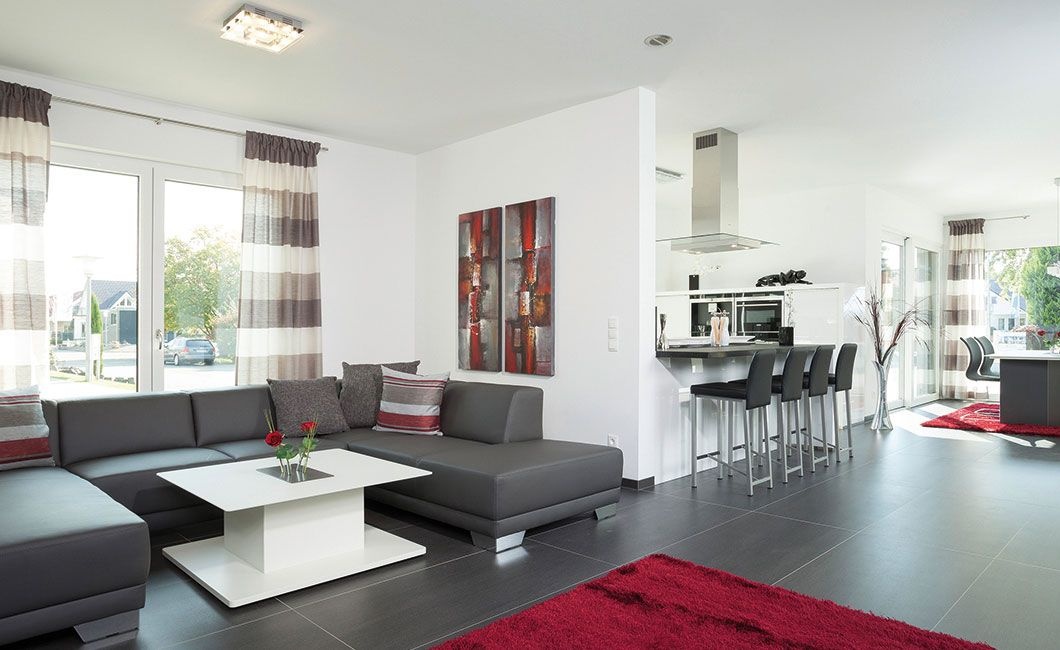 Проект современного дома с мансардными окнами на двускатной крышей от немецких архитекторов Wolf-haus.
Corner open shelves and cabinets under the window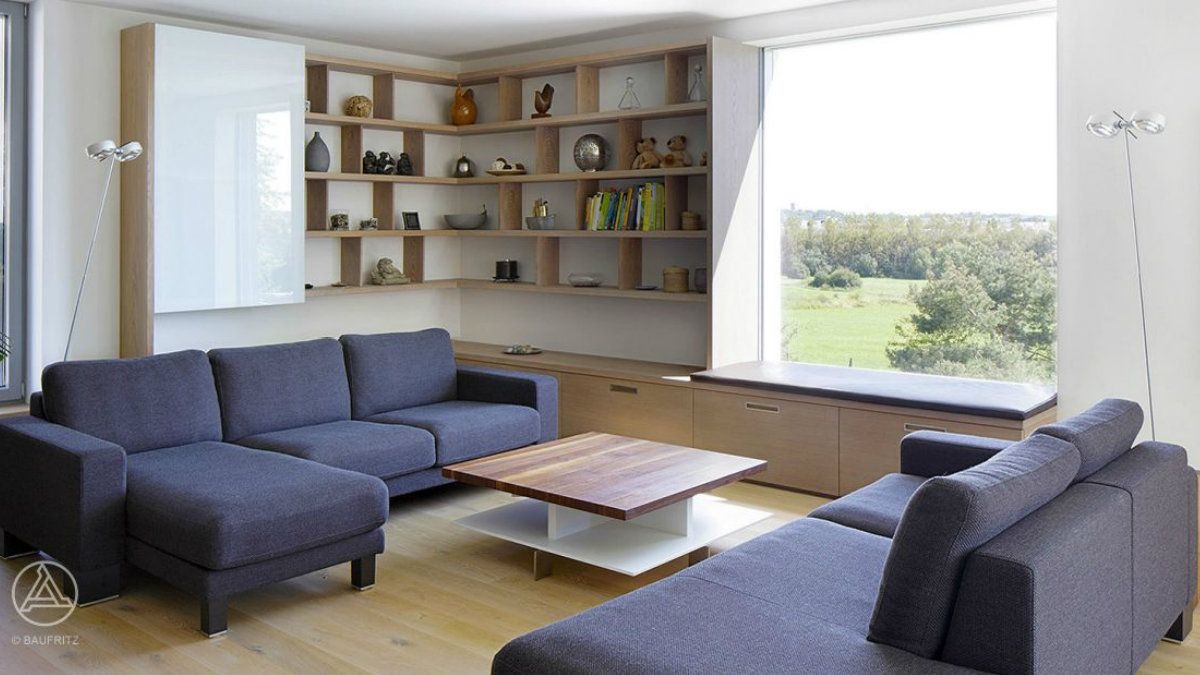 Low dressers and corner shelves give plenty of storage place in this practical and sunny living room.
Contemporary two-story house plan with a walkout basement and flat roof
OUR RECOMMENDATIONS
---
We invite you to visit our other site, EPLAN.HOUSE, where you will find 4,000 selected house plans from around the world in various styles, as well as recommendations for building a house.