House Plan with curved roof and wintergarden
This house plan use the most modern construction technologies. With proper location on a lot, the house will consume the minimum amount of energy in a cold and snowy climate. Due to the high basement, the wooden walls of the house will not be exposed to wetting and rotting. If you make windows in the basement, you will have extra living space.
House plan with a curve shed roof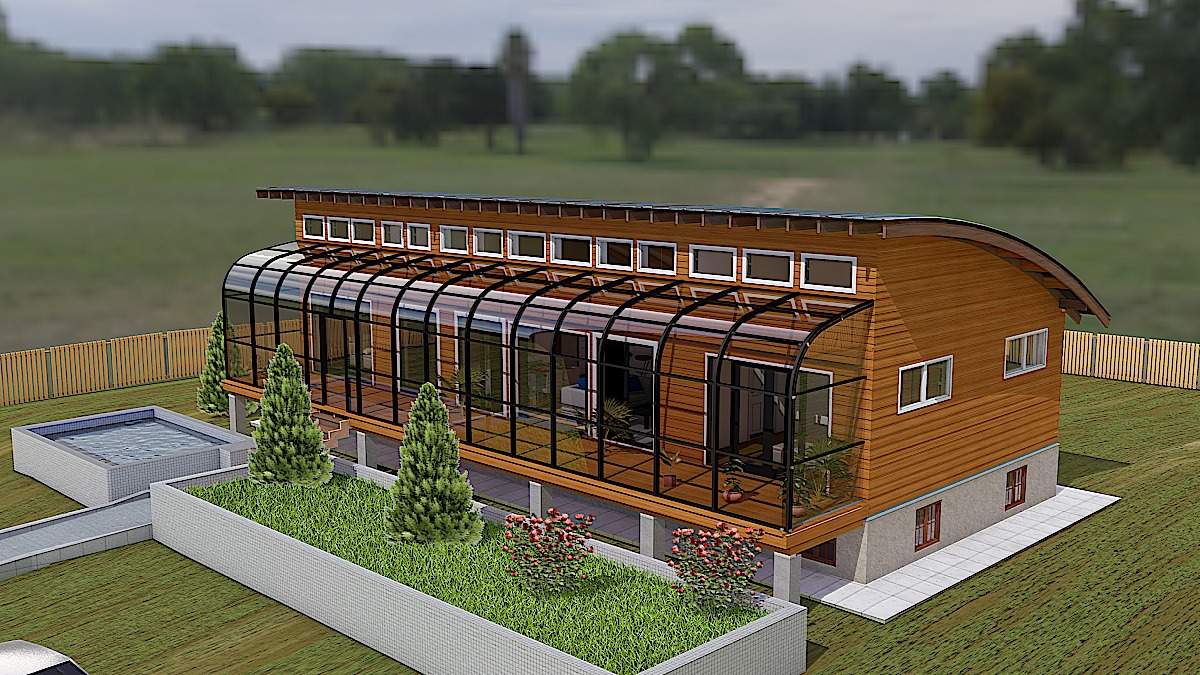 The modern winter garden, like verandas, is an extremely functional solution that allows you to transform an outdoor space into an area that can be used year round. The front facade of this house is almost entirely made of glass. Panoramic glazing not only allows most of the day to use natural light, but also to receive additional heating due to free solar energy. A glazed front porch protects the entrance to the house from the penetration of cold and allows you to create a winter garden. This is possible with the appearance of double-glazed windows with improved thermal efficiency. The veranda can be built with aluminium or plastic frames with curved glass or polycarbonate.
Top view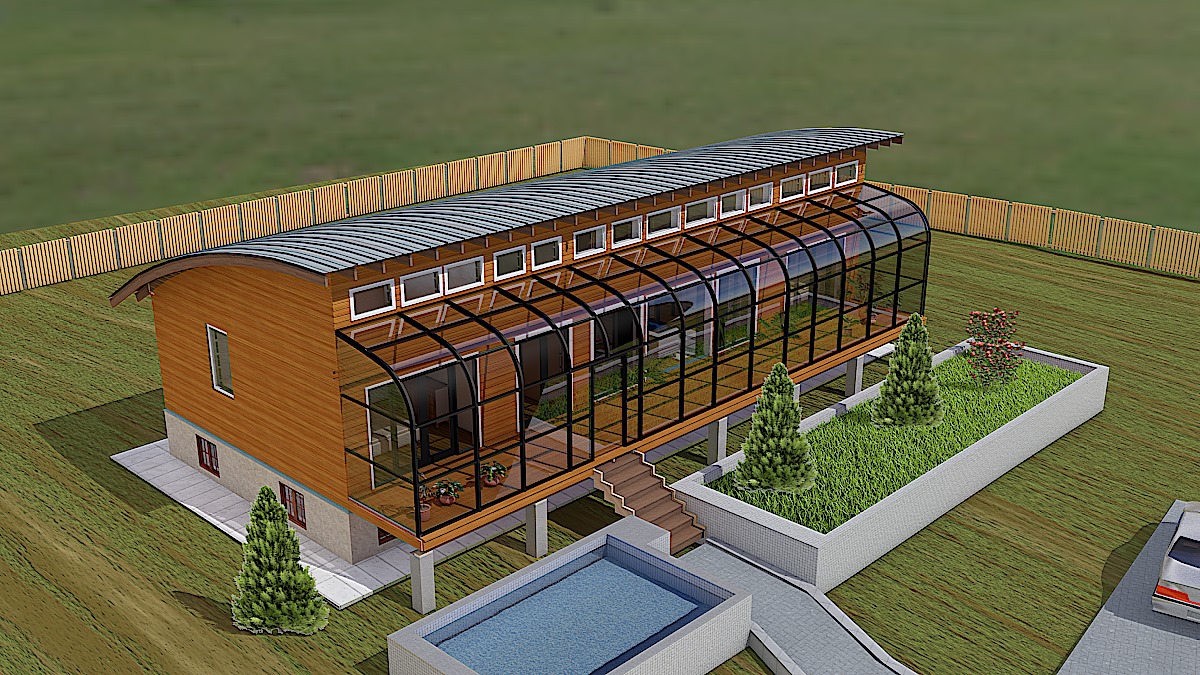 House plan with a curve double glazed veranda
The bend of this shed roof is made with the use of curved glued rafters, visible from the inside. Bent rafters due to the arcuate shape have greater strength and allow you to cover long spans without additional supports. Due to this construction, an open space with high ceilings is obtained, which is especially attractive in the living or dining room.
The upper part of the roofing space needs insulation and ventilation. For the placement of heat insulation materials, either bent glued rafters of thinner sawn timber or composite scraps of boards fastened with nails or nail plates installed over glued rafters are used.
Backside view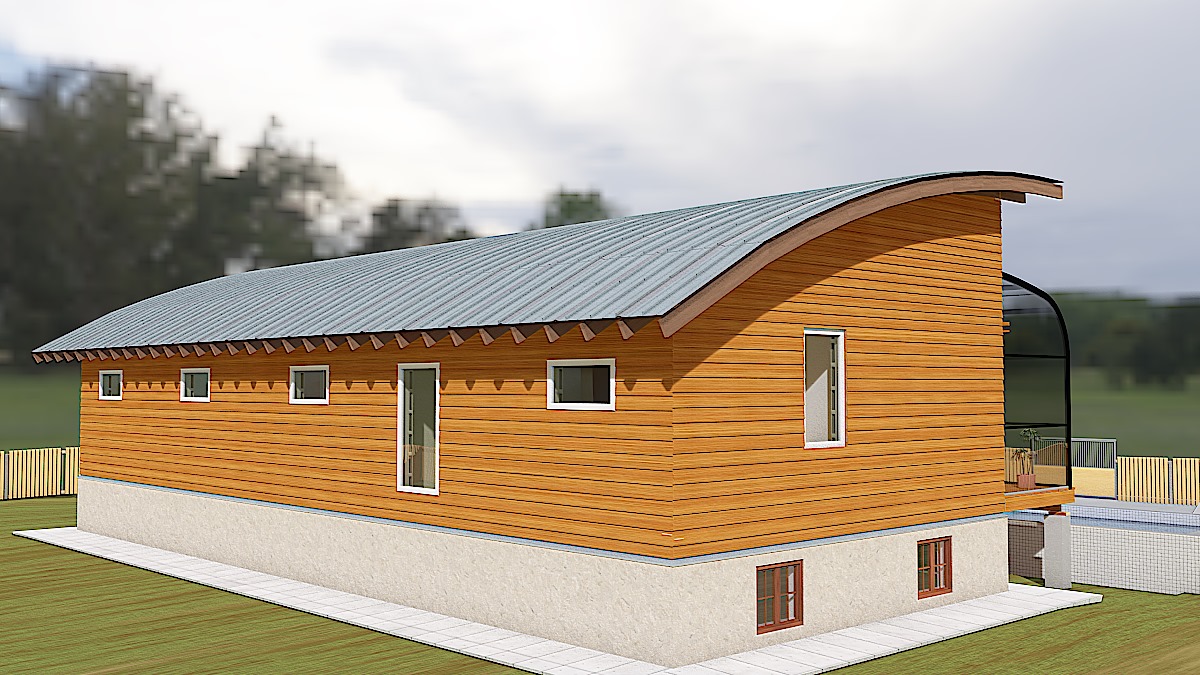 The back of the house faces north. In winter, snow will roll down from the roof.
View of the living room from the glass veranda.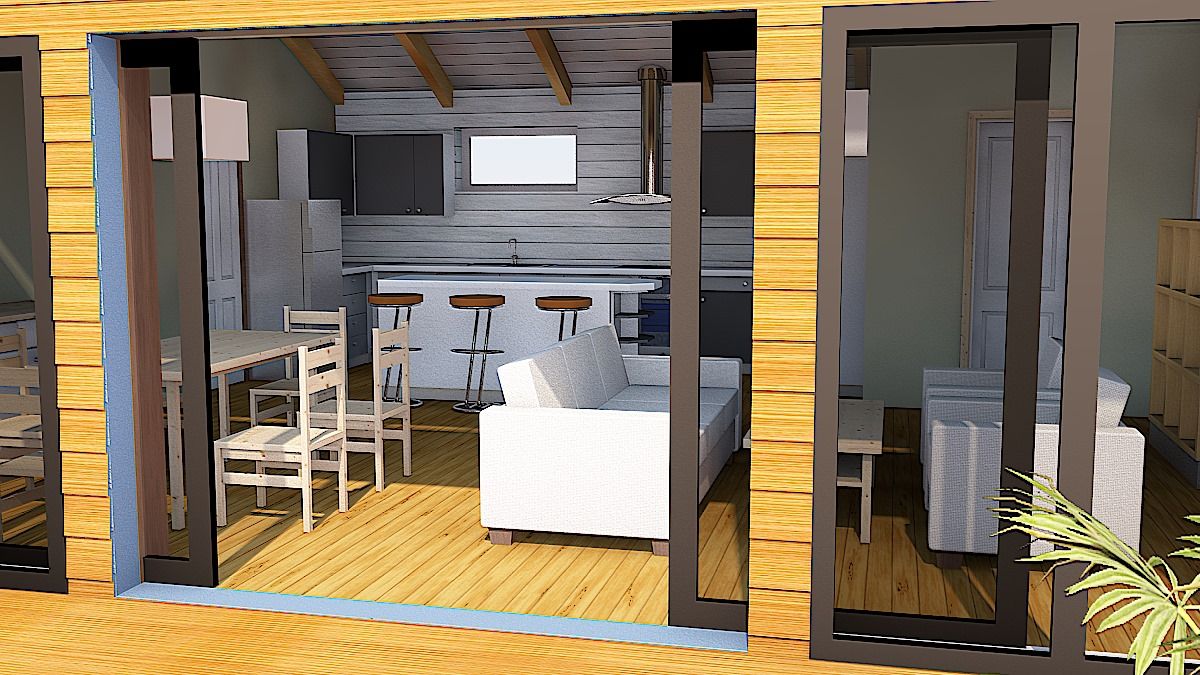 Having an outdoor space to enjoy even during the coldest months of the year is a dream that can be fulfilled by building a glass veranda in your garden or terrace. Who among us has never wanted to be totally surrounded by evocative natural scenery, perhaps during a nice snowfall, while staying protected indoors? The veranda is a contemporary glass canopy and when installed with a polished sliding glass door system, will allow you to enjoy your garden every season of the year. The glass roof will help maintain a level of warmth and when combined with our polished glass, sliding door enclosure, gives you the perfect winter garden experience, enjoying your garden views all year round. Modern sliding doors are equipped with heat-efficient double-glazed windows with an R-factor not lower than 1.0.
View of the living room and dining room from the kitchen island.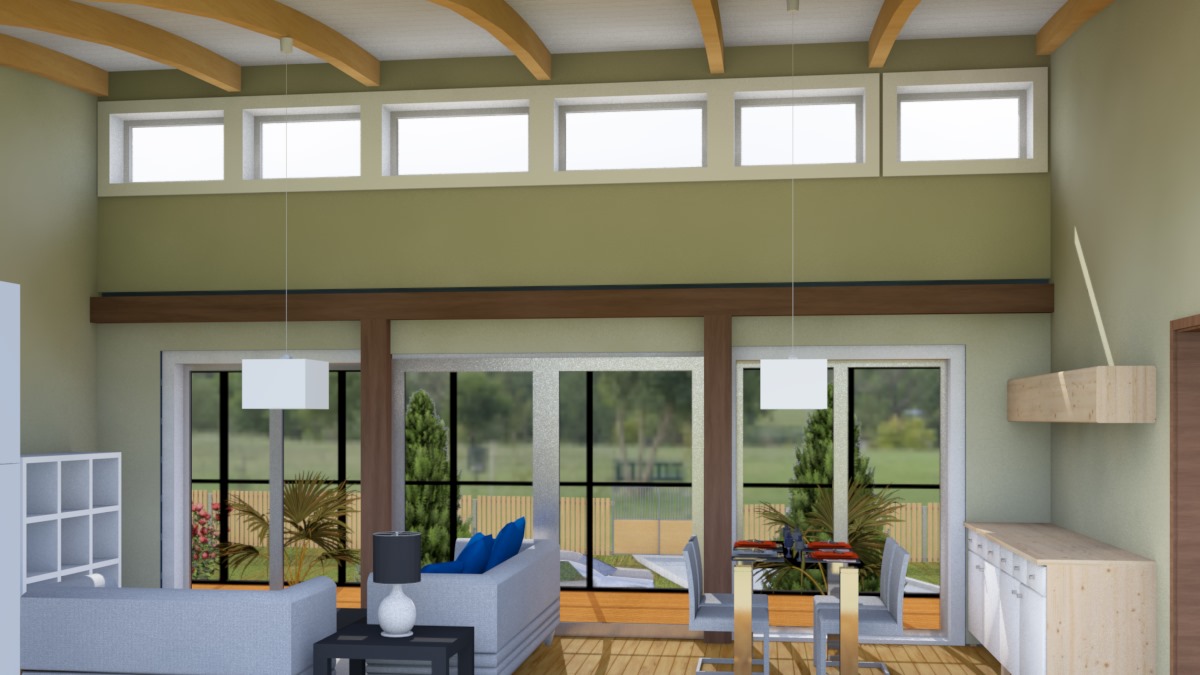 This stylish open floor plan uses a kitchen island, and hanging pendants to divide the kitchen, living and dining rooms.
In this combination living room and dining room, light pours in through the large windows, giving the space an airy and open feel. The dining table is positioned at the window, giving a feeling of al fresco dining even when indoors. Cozy seating is only steps away, making this a great example of a space for entertaining large parties.
Master bedroom with panoramic window.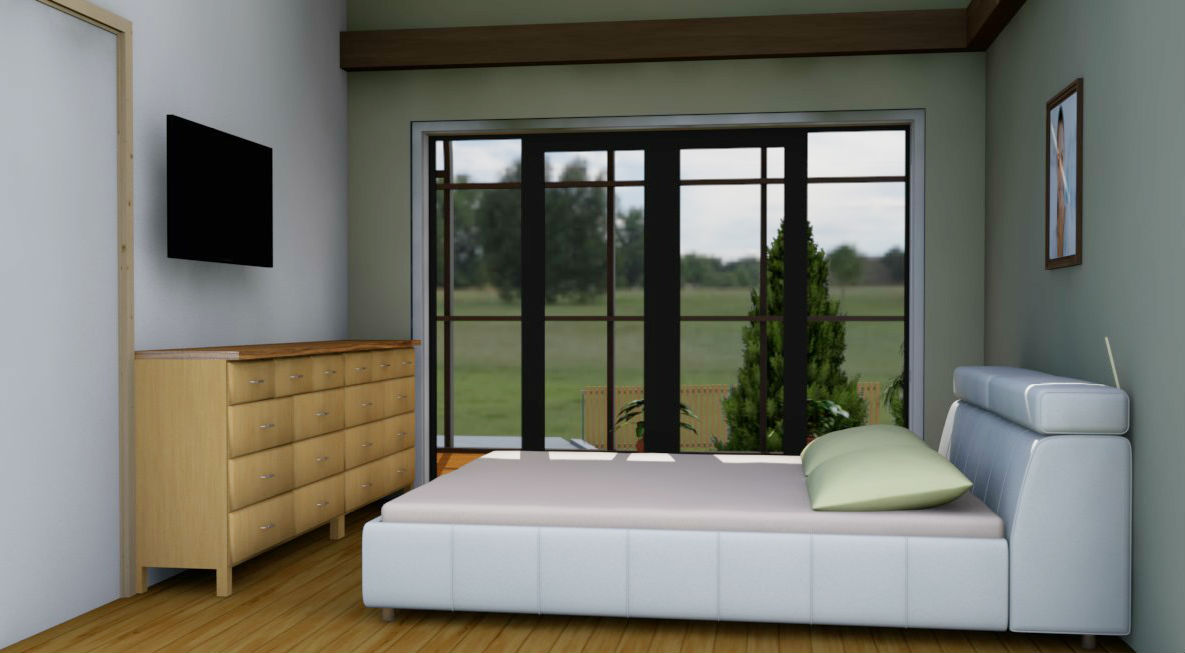 In the warm season, you can sit on the veranda before bedtime. And it's nice to wake up and see the beauty of nature in front of the window. The master bedroom is also equipped with a dressing room and a large bathroom with shower and bath.
The basement will provide an opportunity to make a sauna in the house, guest rooms and a gym. Homemade billets will find here a convenient pantry immediately by the stairs. In the basement you can also place the boiler room.
If you build a house without a basement, the utility room can be placed on the site of the stairs to the basement.
You can order this house plan. Architect's email is expert@eplan.house. Price starts from $1500 US.
Floor Plans
Plan Details
House

одноэтажный
---
Bedrooms —

три
---
Garage Type:

without garage
---
Total Heated Area:

110 sq.m

, (square feet)

1184
---
1st Floor:

110 sq.m
---
2nd Floor —

0 sq.m
---
Dimensions —

17,4 x 9,3 м

, (feet) —

57' x 30'-11"
Roof —

shed roof
---
Wall framing —

каркас
---
Cladding:

wood siding
---
Foundation type —

Basement, Daylight Basement
---
Outdoor living:

Screen Porch
---
Windows:

large windows, panoramic windows, clerestory windows
---