Modern single story 2 bedroom house plan without garage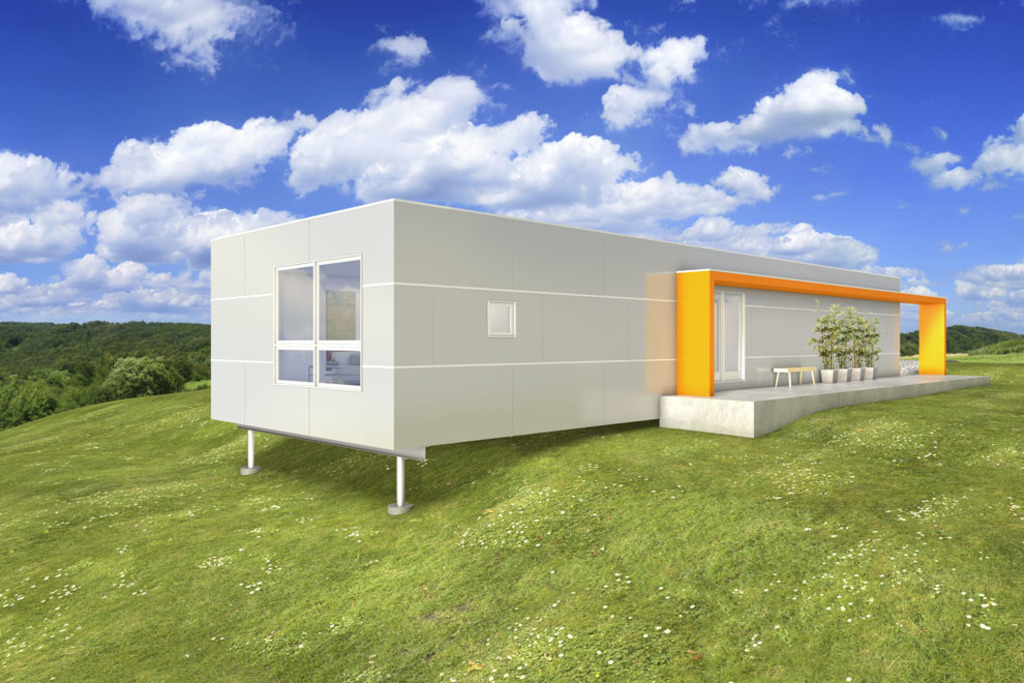 We started with a simple one-story box and a generous living area that flows into the kitchen. Simple forms mean fewer corners allowing for cost-efficient framing and minimal construction waste. An awning over the front door distinguishes the main entrance and can provide visual contrast if desired. The foundation of this design can be easily adapted to fit both sloped and flat sites. An entire wall of windows captures the views and brings them deep into the main living space. An excessive use of windows is one of the reasons modern design has been thought of as more expensive than traditional homes. High-performance glazing is significantly more costly than walls and provides only a fraction of the insulation properties. This design uses windows to maximize the views in the main living space while keeping the overall usage of windows in a budget responsible manner. Optional shading devices can be installed to control the amount of light and heat that enter the building. This home can be clad in a variety of different materials. Natural wood siding gives this home a clean Scandinavian feel. Fiber cement paneling is a durable budget-friendly option that can be painted for a more colorful fresh look. Corrugated galvanized metal is another option and would give the home an industrial modern aesthetic.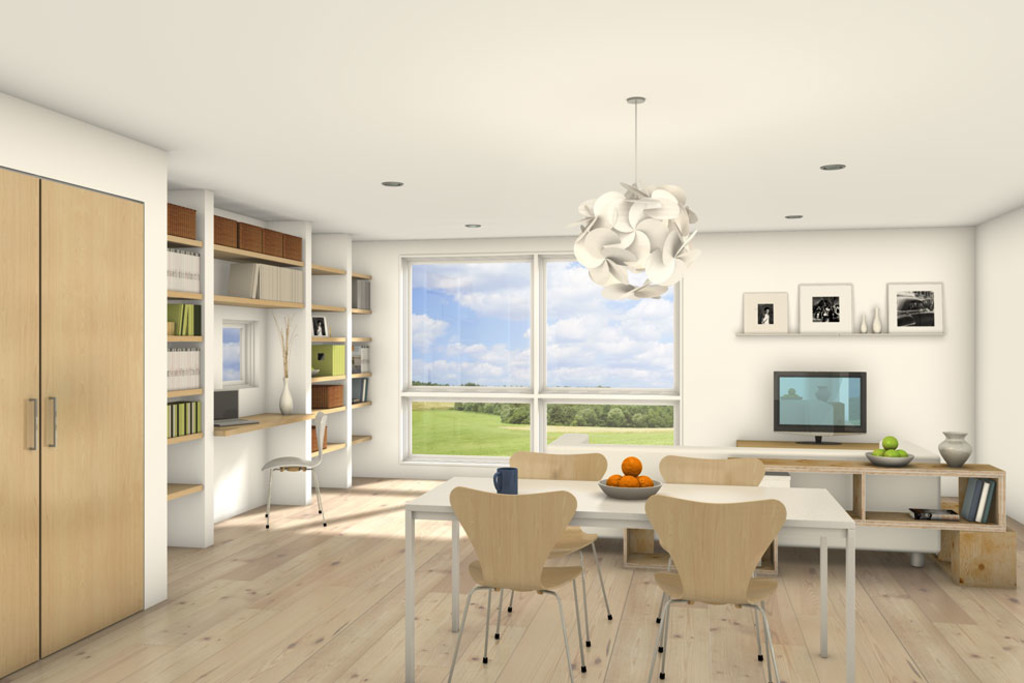 Floor Plan
The form of this design is a long simple bar. The storage needs are accommodated along the length of the long walls. The shorter living wall features an array of windows allowing the home to capture the views. The result is a simple clean open floor plan with plenty of built-in closets and shelves to minimize clutter.
Dining/Living Room
It is your living room. A large glazing area at the end wall floods the open space with daylight and generous views. The living room in the View Box is a versatile communal space where many of life's "at home" activities and comforts can be found such as lounging, reading, surfing the web or watching your favorite movie. The main living space is all about the views, but unlike many modern glass boxes, we have provided plenty of functional features as well. The primary focus of the space is the dramatic use of windows on the end wall, freeing up the long side walls for functional niches. There is a great opportunity for a home office space next to the kitchen. A long built-in desk with drawers is an ideal place to utilized reclaimed wood for an affordable unique design feature.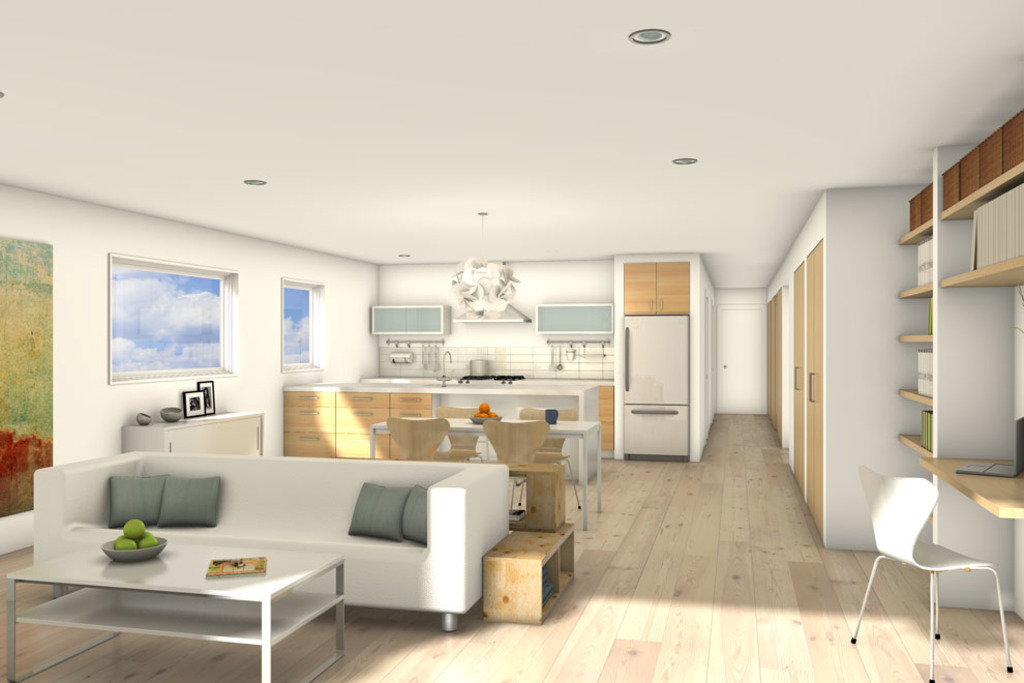 Living Room/Kitchen
Affordable IKEA cabinets coupled with quality Energy Star rated appliances define the value of this kitchen both in terms of aesthetic appeal and energy performance. The kitchen is open to the main living space creating a communal indoor environment. Sturdy white pine floorboards will hold up to foot traffic. Less expensive than hardwood flooring, white pine has a much faster re-growth cycle making it a more sustainable building product. White pine is also a softer wood and as a result, will reveal the true character of the home through the subtle impressions left behind from many years of use while preparing meals for family and friends.
Energy Features A conditioned crawl space is the preferred method of construction in homes where a crawl space is required. A non-conditioned crawl space (even one that is well insulated and properly vented) can have serious moisture problems. By bringing the crawl space into the conditioned envelope all of these problems are eliminated. In addition to being a clean, dry and warm space, a conditioned crawl space also provides an excellent location to place mechanical equipment and run ductwork without consuming valuable living space above. Exterior window awnings above south facing windows are a great method for reducing heat gains in the summer. Go from low energy to zero energy by installing photo voltaic solar panels on the roof.
Pricing
Plan Options
PDF Set

Best Value!

$700.00
PDF plan sets are best for fast electronic delivery and inexpensive local printing.
5 Copy Set
$800.00
5 printed plan sets mailed to you.
CAD Set
$1400.00
For use by design professionals to make substantial changes to your house plan and inexpensive local printing.
Study Set
$600.00
One electronic set for bidding purposes only. Not a legal building set for construction.
Foundation Options
| | | |
| --- | --- | --- |
| Crawlspace | $0.00 | Ideal for semi-sloped or the level lot, home can be built off of grade, typically 18" - 48". |
*Options with a fee may take time to prepare. Please call to confirm.
Additional Options
| | | |
| --- | --- | --- |
| Additional Copies | $50.00/each | Additional hard copies of the plan (can be ordered at the time of purchase and within 90 days of the purchase date). |
| Right-Reading Reverse | $150.00 | Choose this option to reverse your plans and to have the text and dimensions readable. Click here for more information. |
*Options with a fee may take time to prepare. Please call to confirm.
<!--[if IE 9]><![endif]--><!--[if IE 9]><![endif]-->

Houseplans.com is excited to welcome the Green Living collection of innovative plans by FreeGreen founders David Wax and Ben Uyeda. These designs range from Contemporary to Country and Farmhouse styles. All incorporate green building materials and techniques.
Our Plans are designed for energy efficiency. The idea is to broaden access to green design.
David and Ben are experts in the field of green design and also co-founded ZeroEnergy Design, an architecture and energy consulting firm specializing in new construction and major renovations. They got their start leading Cornell University's 2005 Solar Decathlon team, which won the second place award. The competition, sponsored by the US Department of Energy, challenges universities from across the US and beyond to research, design and build an 800 square-foot off-grid solar home.
David holds a Bachelor of Science in Finance and a Master of Business Administration from the Johnson School at Cornell University and is an IT consultant for the securities and capital markets. He says: "FreeGreen was able to integrate architecture and engineering software for custom home design, which meant that we could produce green design fast."/p>
Ben holds a Bachelor and Master of Architecture from Cornell University School of Architecture. He has been a visiting lecturer at Cornell, where he developed an original curriculum to teach the principles of sustainable design, and lectures on sustainable design at Northeastern University. His new venture is Home Made Modern: "smart, affordable DIY design ideas for cool people who like modern home furnishings.
Floor Plans
Plan Details
House

одноэтажный
---
Bedrooms —

две
---
Garage Type:

without garage
---
Total Heated Area:

129.8 sq.m
---
1st Floor:

129.8 sq.m
---
2nd Floor —

0 sq.m
---
Dimensions —

20.3 x 6.4 м
Roof —

flat roof
---
Wall framing —

каркас
---
Cladding:

wood siding, corrugated steel, fiber panels
---
Foundation type —

Crawlspace
---
Outdoor living:

Patio
---
Windows:

panoramic windows